« Return to Blogs
Which Homes Have Increased in Value the Most?
Posted by Christian Penner at Oct. 02, 2017
Home values have risen dramatically over the last twelve months. The latest Existing Home Sales Report from the National Association of Realtors puts the annual increase in the median existing-home price at 5.6%. CoreLogic, in their most recent Home Price Index Report, revealed that national home prices have increased by 6.7% year-over-year.
CoreLogic broke appreciation down ever further into four price ranges which gives a more detailed view than simply looking at the year-over-year increases of the national median home price.
The chart below shows the four tiers and each one's growth from July 2016 to July 2017 (the latest data available).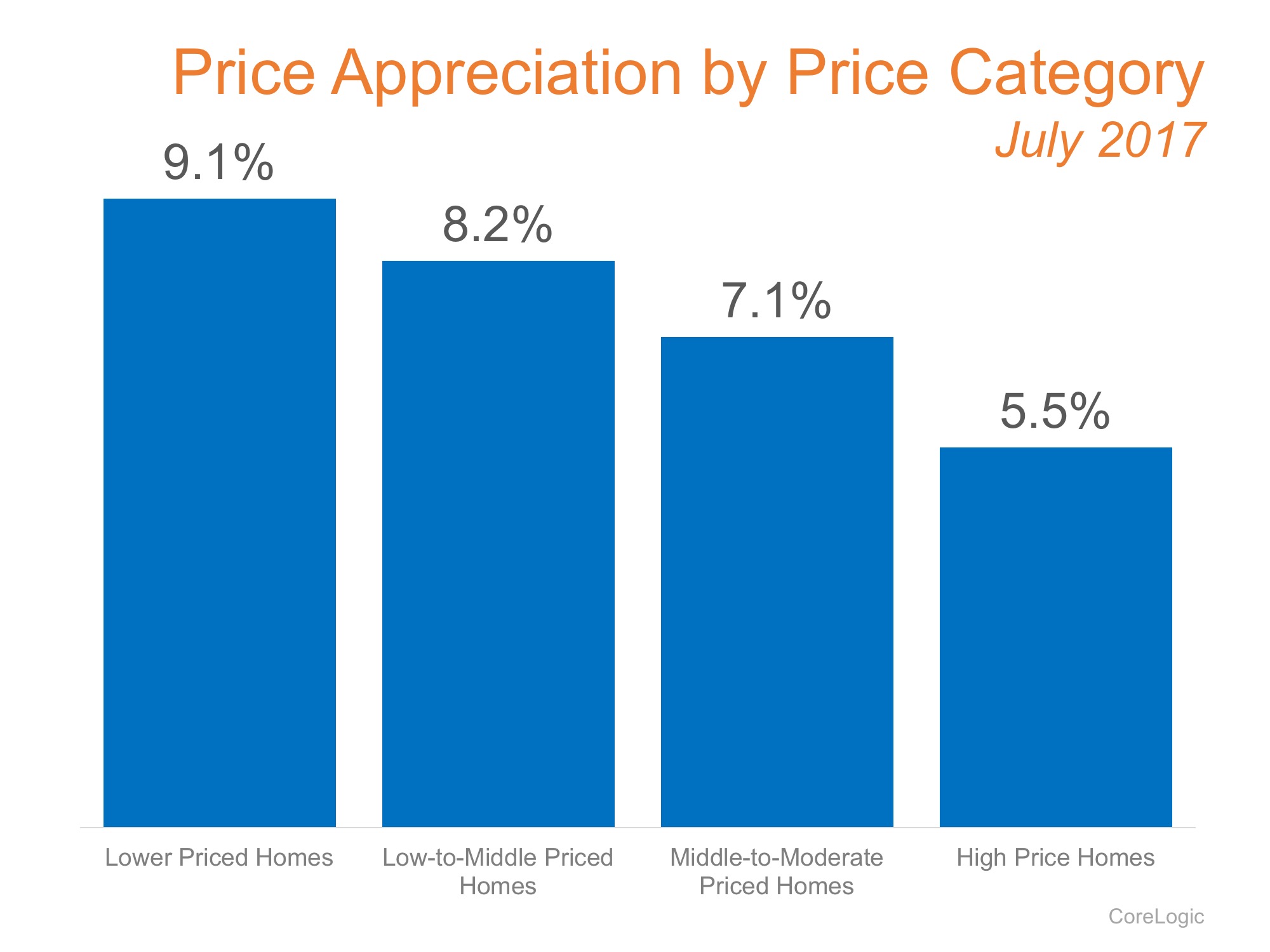 It is important to pay attention to how prices are changing in your local market. The location of your home is not the only factor in determining how much it has appreciated over the course of the last year. Lower priced homes have appreciated at greater rates than homes at the upper ends of the spectrum, due to demand from first-time home buyers and baby boomers looking to downsize.
Bottom Line
If you are planning on listing your home for sale in today's market, let's get together to go over exactly what's going on in your area and your price range.
---
Questions, Comments or For more information you can contact Christian Penner at: (561) 316-6800 or Office Text Line: 561-530-2223 - visit us online at www.ChristianPenner.com
The Christian Penner Mortgage Team,
Buyer Referral Hotline : (561) 316-6800
---
Or You can click "Call Me" below to call Christian Penner directly using Google Voice
---
#ChristianPenner, #MortgageBrokerWestPalmBeach talks about #RealEstateWestPalmBeach. He also serves other Local Areas and provides home #MortgageSolutionsforPalmBeachGardens, #Jupiter, #BocaRaton, #Wellington and #Tequesta. #ChristianPennerMortgageBrokerJupiter has the #lowestmortgagerates and the best #homemortgage programs like; #Jumboloans, #FHAHomeLoans, #VAHomeLoans, #ReverseMortgageHomeLoans, #FreddieMacHomeLoans, #FannieMaeHomeLoans and #HARPMortgageLoans. #ChristianPennerMortgageBrokerPalmBeachGardens has Served the area for over 15 years with his #HomeLoanLending Needs and Works with #TheChristianPennerMortgageTeam.
#AskMeAboutAMortgage #PalmBeachMortgageLender #WestPalmBeachMortgageLender #PalmBeachGardensMortgageLender
You Can Also Find Him On
Facebook at: https://web.facebook.com/YourMortgageBanker/
- - -
Christian Penner
712 U.S. Highway 1 North #300, North Palm Beach, FL 33408
Buyer Referral Hotline: (561) 316-6800 | Office Text Line: : (561) 530-2223