« Return to Blogs
Forecast for the Week : The markets will be waiting with bated breath.
Posted by Christian Penner at Aug. 22, 2011

Christian Penner

Area Manager

Mortgage Banker

Phone: 561-373-0987

Fax: 561-935-4142

License: NMLS#368289
In This Issue...

Last Week in Review : What does the wild market mean to home loan rates?
Forecast for the Week : The markets will be waiting with bated breath. Read why!
View : How do you maintain focus on your work? Two tips to achieve success!
Last Week in Review


"It's a small world after all." The wild ride over the last few weeks continued again last week, as the US markets danced to the tune of the European debt and economic crisis. Here's what it means to home loan rates here in the US.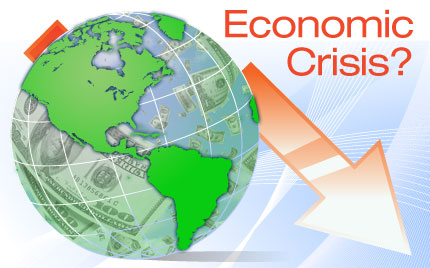 Even inflation hasn't stopped Bonds. Last week, consumer inflation and producer inflation came in above expectations. Remember inflation is the archenemy of Bonds and home loan rates, so hotter inflation would normally negatively impact Bonds and home loan rates. But even last week's inflation news didn't impact Bonds.
Seeing Bonds dismiss that inflation news indicates that the Bond market senses that the economy (which is already hardly growing) is in a very vulnerable position with things in Europe uncertain and gloomy at best. And when the situation deteriorates further, it may push many world economies into a recession.
It's all about Europe. US Bonds - including Mortgage Bonds - have been seen by the markets as a safe haven bid on existing and growing fears that Europe's debt crisis is coming to a head…and global growth, which is already anemic, is being threatened further. Not helping the situation was the news last week that there is no concrete solution to the European debt problems. Last week, French President Nicolas Sarkozy and German Chancellor Angela Merkel met. However, following the meeting, Sarkozy stated that "EuroBonds can be imagined one day, but at the END of the European integration process, not at the BEGINNING."
That was a pretty clear message to the financial markets that the creation of a EuroBond is not within the remote daydreams of Germany, which is the strongest nation in Europe and who will determine whether it gets created or not. So let's be clear, the German taxpayers want no part of a EuroBond, since it would use the surplus that Germany has worked hard to create to fund the poor habits and debt of weaker and less responsible member States.
The bottom line is that the fear and uncertainty right now is pretty overwhelming, which is supporting Bonds and home loan rates. But Bonds are at "nose bleed levels" and sentiment can change very quickly. If you or someone you know has been considering refinancing or purchasing a home this is an ideal time to look at their unique situation. It only takes a few minutes to look at the options that are available right now.
Forecast for the Week


This week's economic calendar is light but the impact could be big:
New Home Sales will be released on Tuesday. This report comes after a drop in Existing Home Sales, Housing Starts and Building Permits. It would be nice to see some improvement - but the market expectation isn't high.
Gross Domestic Product for the 2nd quarter will be released on Friday, and investors will be waiting with bated breath for signs of weakening in the US economy. The initial read for Q2 came in low. If the second read is weak, Stock markets could move a leg lower and give Bonds a boost. But the report isn't released until Friday, so Stocks and Bonds will fight for investing dollars throughout the week.
Remember: Weak economic news normally causes money to flow out of Stocks and into Bonds, helping Bonds and home loan rates improve, while strong economic news normally has the opposite result.
As you can see in the chart below, Bonds and Home loan rates improved last week but tapered off a bit on Friday. Stock markets fell once again last week on fears of a double-dip recession. That coupled with a plunge in the Philly Fed Index along with weak housing numbers fueled a rally in the Bond markets that saw Mortgage Bonds hit fresh 2011 highs before giving up some of those gains on Friday.
Overall, however, home loan rates are still at some of the most attractive levels ever seen - making now a great time to consider a refinance or home purchase.

-----------------------

Chart: Fannie Mae 3.5% Mortgage Bond (Friday Aug 19, 2011)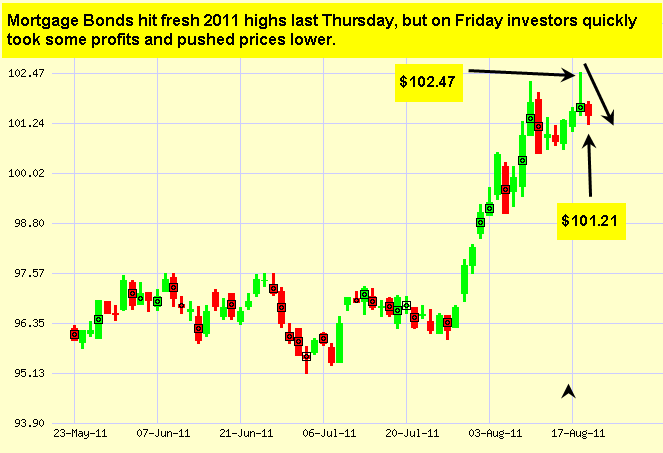 The Mortgage Market Guide View...


Focus to Finish: A Mindset
By Jason W. Womack, MEd, MA
When it's time to sit down and work on your work, how do you hold your focus?
Over the past 5 months I've been working on the book. In that time, I've tried it ALL! I've planned extra days in hotel rooms, blocked time on the calendar, hired editors, I've even kept the calendar completely clear for one 3-day stretch, all to buy a little extra time to write.
Here's what I've learned (or deepened my understanding of) over the past several months:
1. I've got to have a solid "start point." When I sit down to write, it helps a TON if I've already decided WHAT I'm going to draft in that session. Now, EVERY time I do this, the topic is expanded on, but...I don't waste any time getting started. I sit down. I write.
2. I (and this is me, what about you?) need to have some finish line in mind. And, it can't be time. I don't know why, but saying to myself, "I'm going to write until 3:45pm" just doesn't get me going as much as, "I'll take my next break after I've written 3,000 words."
A starting line. A finish line. Maybe that's why I like triathlons so much!
Jason W. Womack is an author and advisor, and founder of The Womack Company, a productivity-training firm based in Ojai, California. Jason's next book will be published in January 2012. Pre-order copies today at http://www.amazon.com/Your-Best-Just-Got-Better/dp/1118121988/ref=sr_1_1?ie=UTF8&qid=1313453329&sr=8-1 .

--------------------------

Remember, as a general rule, weaker than expected economic data is good for rates, while positive data causes rates to rise.
Economic Calendar for the Week of August 22 - August 26
Date

ET

Economic Report

For

Estimate

Actual

Prior

Impact

Tue. August 23

10:00

New Home Sales

Jul

310K

312K

Moderate

Wed. August 24

08:30

Durable Goods Orders

Jul

2.0%

-1.9%

Moderate

Thu. August 25

08:30

Jobless Claims (Initial)

8/20

400K

408K

Moderate

Fri. August 26

08:30

Gross Domestic Product (GDP)

Q2

1.1%

1.3%

Moderate

Fri. August 26

08:30

GDP Chain Deflator

Q2

2.3%

2.3%

Moderate

Fri. August 26

10:00

Consumer Sentiment Index (UoM)

Aug