« Return to Blogs
Another Business Booster - How to Overcome Listing Price Challenges
Posted by Christian Penner at Feb. 27, 2014
How to Overcome Listing Price Challenges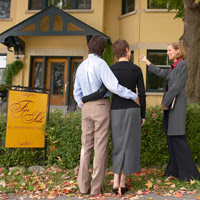 During a listing appointment, a Realtor reviewed the home's appropriate comparable properties and evaluated the prices of similar homes on the local market. After discussing her findings with her clients, all agreed upon the well-reasoned listing price and marketing plan, and the Realtor walked away with a signed listing agreement. Not long after, the clients' "friends in the business" called and convinced them that their listing price was too low, and that they could do better.
The clients immediately set an appointment with their agent to complain. Rather than get defensive over the undermining behavior, or threaten to take the other agents before her local Board of Realtors, or even defend her price with another review of the facts...this agent leaned back in her chair—knowing the other agents hadn't done their homework—and just smiled.
"Mr. and Mrs. Seller," she said, "We spent a lot of time looking at comparables, as well as other similar listings on the market. After that we agreed to a marketing plan and a price that makes sense. I'm not going to change the listing agreement, but as your agent, I will personally contact your friends and ask them to bring me any interested buyers at that price. If they have one, great!" And she added, "But I think you already know what's going to happen."
Sure enough, the agent called and the pesky competitors did exactly what she said they'd do—nothing! Her clients never heard from their "friends" again. The sellers sold for the agreed listing price and appreciated the great service they received!
Next time you're challenged on your air-tight listing price, don't lose your cool or get defensive, just try this quick and easy script!
Source: ActiveRain
---
Questions, Comments or For more information you can email Christian Penner at TheMortgageTeam@ChristianPenner.com or visit us online at www.ChristianPenner.com or you can call us directly at: 561-316-6800
ChristianPenner.com
http://www.christianpenner.com/another-business-booster-from-christian-penner-how-to-overcome-listing-price-challenges/
Another Business Booster from Christian Penner - How to Overcome Listing Price Challenges
---
Or You can click "Call Me" below to call Christian Penner directly using Google Voice
---
#Christian Penner, #Mortgage Broker West Palm Beach talks about #Real Estate West Palm Beach. He also serves other Local Areas and provides home #Mortgage Solutions for Palm Beach Gardens, #Jupiter, #Boca Raton, #Wellington and #Tequesta. #Christian Penner Mortgage Broker Jupiter has the #lowest mortgage rates and the best #home mortgage programs like; #Jumbo loans, #FHA Home Loans, #VA Home Loans, #Reverse Mortgage Home Loans, #Freddie Mac Home Loans, #Fannie Mae Home Loans and #HARP Mortgage Loans. #Christian Penner Mortgage Broker Palm Beach Gardens has Served the area for over 15 years with his #Home Loan Lending Needs and Works with #FEMBI Mortgage in Jupiter. You Can Also Find Him On Facebook at: http://Facebook.com/YourMortgageBanker
- - -- - -
- - -
ChristianPenner.com
http://www.christianpenner.com/another-business-booster-from-christian-penner-how-to-overcome-listing-price-challenges/
Another Business Booster from Christian Penner - How to Overcome Listing Price Challenges