« Return to Blogs
Personal Capital Review and Walkthrough | Free account monitoring of y
Posted by Christian Penner at Nov. 22, 2014
Personal Capital Review and Walkthrough | Free account monitoring of your investments, accounts, and real estate to more easily save for college and retirement
We've all heard the phrase "if it isn't broke, then don't fix it" before. That rarely is the advice people need in most cases:
Why go to the doctor for annual check-ups if I feel just fine?
Why visit the dentist to get my teeth cleaned if I brush them at home?
Sure, my car is making a clunking noise but it doesn't need to go to the mechanic because I change the oil sometimes.
We get our annual check-ups and routine exams because, quite frankly, all doctors, dentists, and auto-mechanics do their best , and the best results are obtained, through preventative care. Consider Personal Capital "preventative care" for your finances. A way for you to check-up on, nurse to health any ailments that weaken it, and build a healthy "immune system" to keep your financial life from getting knocked off its feet.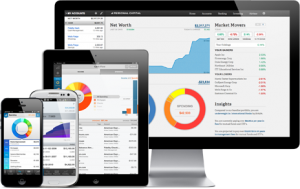 PersonalCapital.com gives you a dashboard to everything happening with your money – particularly as it relates to your future. This dashboard is available online – and via some extremely easy to use apps for tablets, and phones. The FREE Android and iPhone apps, in particular, are clean, easy to handle, and beautiful for a mobile platform. In the iOS app store, the Personal Capital app maintains close to a 5 star rating with around 4,500 total ratings.
Over half a million users are tracking $100 billion of America's balance sheet on Personal Capital's free financial tools. The security is top-notch. See below.
---
Questions, Comments or For more information you can email Christian Penner at TheMortgageTeam@ChristianPenner.com or visit us online at www.ChristianPenner.com or you can call us directly at: 561-316-6800
ChristianPenner.com
http://www.christianpenner.com/personal-capital-review-walkthrough-free-account-monitoring-investments-accounts-real-estate-easily-save-college-retirement/
Personal Capital Review and Walkthrough | Free account monitoring of your investments, accounts, and real estate to more easily save for college and retirement
---
Or You can click "Call Me" below to call Christian Penner directly using Google Voice
---
#ChristianPenner, #MortgageBrokerWestPalmBeach talks about #RealEstateWestPalmBeach. He also serves other Local Areas and provides home #MortgageSolutionsforPalmBeachGardens, #Jupiter, #BocaRaton, #Wellington and #Tequesta. #ChristianPennerMortgageBrokerJupiter has the #lowestmortgagerates and the best #homemortgage programs like; #Jumboloans, #FHAHomeLoans, #VAHomeLoans, #ReverseMortgageHomeLoans, #FreddieMacHomeLoans, #FannieMaeHomeLoans and #HARPMortgageLoans. #ChristianPennerMortgageBrokerPalmBeachGardens has Served the area for over 15 years with his #HomeLoanLending Needs and Works with #FEMBIMortgageinJupiter. You Can Also Find Him On Facebook at: http://Facebook.com/YourMortgageBanker
- - -
Christian Penner
South Flagler Drive, Suite 800, West Tower West Palm Beach, FL 33401
Phone: +1 (561) 316-6800
- - -
ChristianPenner.com
http://www.christianpenner.com/personal-capital-review-walkthrough-free-account-monitoring-investments-accounts-real-estate-easily-save-college-retirement/
Personal Capital Review and Walkthrough | Free account monitoring of your investments, accounts, and real estate to more easily save for college and retirement
#ChristianPenner #MortgageBanker #mortgage #mortgagerates #mortgageloans #getpreapproved #westpalmbeach #wellington #westpalmbeachmortgagebroker #wellingtonmortgagebroker #loans #preapproval #westpalmbeachloans #palmbeachloans #browardloans #getamortgageloan #mortgagelender #mortgagelenders #browardcounty #palmbeachcounty #dadecounty #florida #realestate #westpalmbeachrealestate #wellingtonflorida #wellingtonfl #realestate Christian Penner #ChristianPenner Christian Penner Home Loan Company #ChristianPennerHomeLoanCompany Current Mortgage Rates #CurrentMortgageRates FHA loan #FHAloan FHA loans #FHAloans FHA Mortgage Financing Specialist #FHAMortgageFinancingSpecialist FHA Mortgage Lenders #FHAMortgageLenders FHA VA Financing Specialist #FHAVAFinancingSpecialist Harp Refinance #HarpRefinance Home Finance Mortgage #HomeFinanceMortgage Home Loan #HomeLoan Home Loan Company #HomeLoanCompany Home Mortgage #HomeMortgage Home Mortgage New #HomeMortgageNew Lenders Mortgage #LendersMortgage Mortgage #Mortgage Mortgage Banker #MortgageBanker Mortgage Banker West Palm Beach #MortgageBankerWestPalmBeach Mortgage Broker #MortgageBroker Mortgage Broker Florida #MortgageBrokerFlorida Mortgage Broker West Palm Beach #MortgageBrokerWestPalmBeach Mortgage Broker West Palm Beach #MortgageBrokerWestPalmBeach Mortgage Brokers #MortgageBrokers Mortgage Brokers West Palm Beach #MortgageBrokersWestPalmBeach Mortgage Companies #MortgageCompanies Mortgage Company #MortgageCompany Mortgage Lender West Palm Beach #MortgageLenderWestPalmBeach Mortgage Lender West Palm Beach #MortgageLenderWestPalmBeach Mortgage Lenders #MortgageLenders Mortgage Loan Lender #MortgageLoanLender Mortgage Loan Lenders #MortgageLoanLenders Mortgage Loans #MortgageLoans Mortgage Rate #MortgageRate Mortgage West #MortgageWest Palm Beach Mortgage Broker #PalmBeachMortgageBroker Palm Beach Mortgage Broker #PalmBeachMortgageBroker Palm Beach Mortgage Company #PalmBeachMortgageCompany Real Estate #RealEstate Real Estate #RealEstate Real Estate Home #RealEstateHome Real Estate Home #RealEstateHome Real Estate West Palm Beach #RealEstateWestPalmBeach Realtor #Realtor Realtor West Palm Beach #RealtorWestPalmBeach Refinance #Refinance Refinance A Mortgage #RefinanceAMortgage Refinance Home Loans #RefinanceHomeLoans Refinance Mortgage Lenders #RefinanceMortgageLenders VA Financing Specialist #VAFinancingSpecialist VA Home Loan Expert #VAHomeLoanExpert VA Home Loans #VAHomeLoans TheMortgageTeam #TheMortgageTeam Mortgageteam #Mortgageteam Mortgagecompany #Mortgagecompany Mortgagegroup #Mortgagegroup LendingGroup #LendingGroup LendingTeam #LendingTeam LendingCompany #LendingCompany MortgageSolutions #MortgageSolutions LendingSolutions #LendingSolutions Personal Capital