« Return to Blogs
Christian Penner: Practical Financial Tips
Posted by Christian Penner at Apr. 26, 2013
Get Organized with These 5 Money Management Apps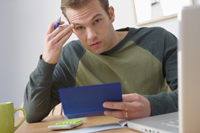 Gone are the days of balancing your checkbook by hand or trying to make sense of multiple investment statements. Smartphone apps linked with their web counterparts make the most of your banking and investment information, helping you budget and save along the way. Here are some of the best:
Mint
from Intuit is free, easy to use and lets you view financial data from multiple sources on multiple devices. Mint provides handy tools for planning and budgeting, and alerts you when bills are due however the app cannot access funds nor scheduling outgoing payments. The software is supported by ads based on a user's activity profile.
Pageonce
connects your bill accounts and pays securely from a single location. The app alerts you to bill due dates, overages, late fees, and suspicious activity. Pageonce supports utility companies, credit cards, insurance, phone and thousands of other providers and is free with no ads.
Venmo
lets friends send and receive money from each other, eliminating the hassle of exchanging cash or awkward IOUs. There is no fee for receiving money but there is a 3 percent fee to send money, unless you use funds from your existing Venmo balance, a bank transfer, or a valid debit card.
Wikinvest Portfolio Manager,
recommended by both Barron's and Forbes, is free with ads and allows you to track your investment portfolio and follow the markets. It does not allow open access to your accounts, however automatically updates your brokerage holdings nightly. It currently imports data from over 60 brokerages. Your Bank may already have an app that manages your accounts, deposits your checks by photo, pays bills, makes wire transfers, and moves funds between accounts. Bank apps are usually free without ads.
Other Popular Apps
you may want to check out include
HelloWallet
,
Balance
,
Accounts 2
, and if your employer uses Concur for tracking expenses, try the
Concur Mobile App
.
Investment Accounts Explained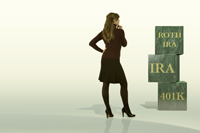 You've just finished your taxes, so now is a great time to re-visit your retirement investment strategy. Here is a summary of key investment engines you might consider heading into 2013:
Money Market Account -
A savings account offering greater interest in exchange for larger deposits; restrictions include monthly transaction limits and minimum balance requirements, which vary bank to bank.
401(k) Plan -
An investment plan established by employers for deferring a portion of an employee's income. Earnings in the account accrue on a tax-deferred basis, but income tax applies upon withdrawal with some exceptions. Employers may also make matching contributions for employees or create profit-share provisions.
IRA -
There are two main types of IRA retirement accounts: Traditional and Roth. They differ by how your money's taxed–going out (Traditional) or in (Roth), but your money grows tax-free while sitting in both. With a
Traditional
IRA you deposit pre-tax income, which may also be tax-deductible. You'll pay taxes on this money when you take it out, but if this is before you're 59 then you'll also pay a 10 percent penalty on the amount withdrawn. Two types of Traditional IRAs also exist for self-employed and small business owners:
| | |
| --- | --- |
| | SEP: these contributions are tax-deductible and allow a higher total contribution. |
| | Simple: unlike a SEP, employees can contribute to Simple IRAs. Employers are also required to make a contribution based on the employee's salary. |
For a Roth IRA you contribute income for which you've already paid taxes, and contributions are not tax-deductible. You can take money out anytime but the taxman may penalize you if you take out more money than you originally put in (which could happen if your money's grown substantially in the account through a smart investment strategy).
Airline Fees Being Bundled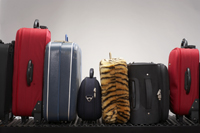 Fee packages make it easier for you to calculate the true cost of your trip. But they're still just extra charges you might want to skip. By Susannah Snider, Kiplinger.com
Customers hate fees, so airlines are rebranding them. American and Delta are calling some add-ons "fare choices" and "trip extras." New monikers, same old fees. For $68 round-trip over the base fare, for example, American Airlines' Choice Essential entitles you to a checked bag, reservation change and Group 1 boarding. Delta's $21 Ascend bundles in-flight Wi-Fi and priority boarding.The two fee combos are variations of the same concept, but the payment method and potential savings differ. American's choices are rolled into the ticket price, so when you search itineraries on AA.com, you'll see the basic fare next to Choice Essential and other bundles before you click "buy." Delta's fees are tallied separately and purchased online or at the gate. Expect more airlines to jump on the bundled-fees bandwagon. Although fee packages offer a more predictable way to calculate the true cost of your trip, weigh the savings before you commit. Checking a bag round-trip on a domestic American flight costs $50, so adding $18 to snag priority boarding and cover a possible $150 change fee makes sense if you expect your itinerary might change. But the extras in Delta's Ascend would cost $23 purchased separately, saving just $2. Reprinted with permission. All Contents ©2013 The Kiplinger Washington Editors.
Kiplinger.com
If you find this helpful please let us know, just leave us a comment review.
Just click Give A Review.
A simple Thank You message means a lot to us.
---
#Christian Penner, #Mortgage Broker West Palm Beach talks about #Real Estate West Palm Beach. He also serves other Local Areas and provides home #Mortgage Solutions for Palm Beach Gardens, #Jupiter, #Boca Raton, #Wellington and #Tequesta. #Christian Penner Mortgage Broker Jupiter has the #lowest mortgage rates and the best #home mortgage programs like; #Jumbo loans, #FHA Home Loans, #VA Home Loans, #Reverse Mortgage Home Loans, #Freddie Mac Home Loans, #Fannie Mae Home Loans and #HARP Mortgage Loans. #Christian Penner Mortgage Broker Palm Beach Gardens has Served the area for over 15 years with his #Home Loan Lending Needs and Works with #FEMBI Mortgage in Jupiter. You Can Also Find Him On Facebook at: http://Facebook.com/YourMortgageBanker <-- ADD Me and Like My Page for more of this.