« Return to Blogs
NAR Data Shows Now Is a Great Time to Sell!
Posted by Christian Penner at Jul. 03, 2017
We all realize that the best time to sell anything is when demand is high and the supply of that item is limited. Two major reports issued by the National Association of Realtors (NAR) revealed information that suggests that now continues to be a great time to sell your house.
Let's look at the data covered in the latest REALTORS® Confidence Index and Existing Home Sales Report.
REALTORS® CONFIDENCE INDEX
Every month, NAR surveys "over 50,000 real estate practitioners about their expectations for home sales, prices and market conditions." This month, the index showed (again) that home-buying demand continued to outpace supply in May.
The map below illustrates buyer demand broken down by state (the darker your state, the stronger the demand is there).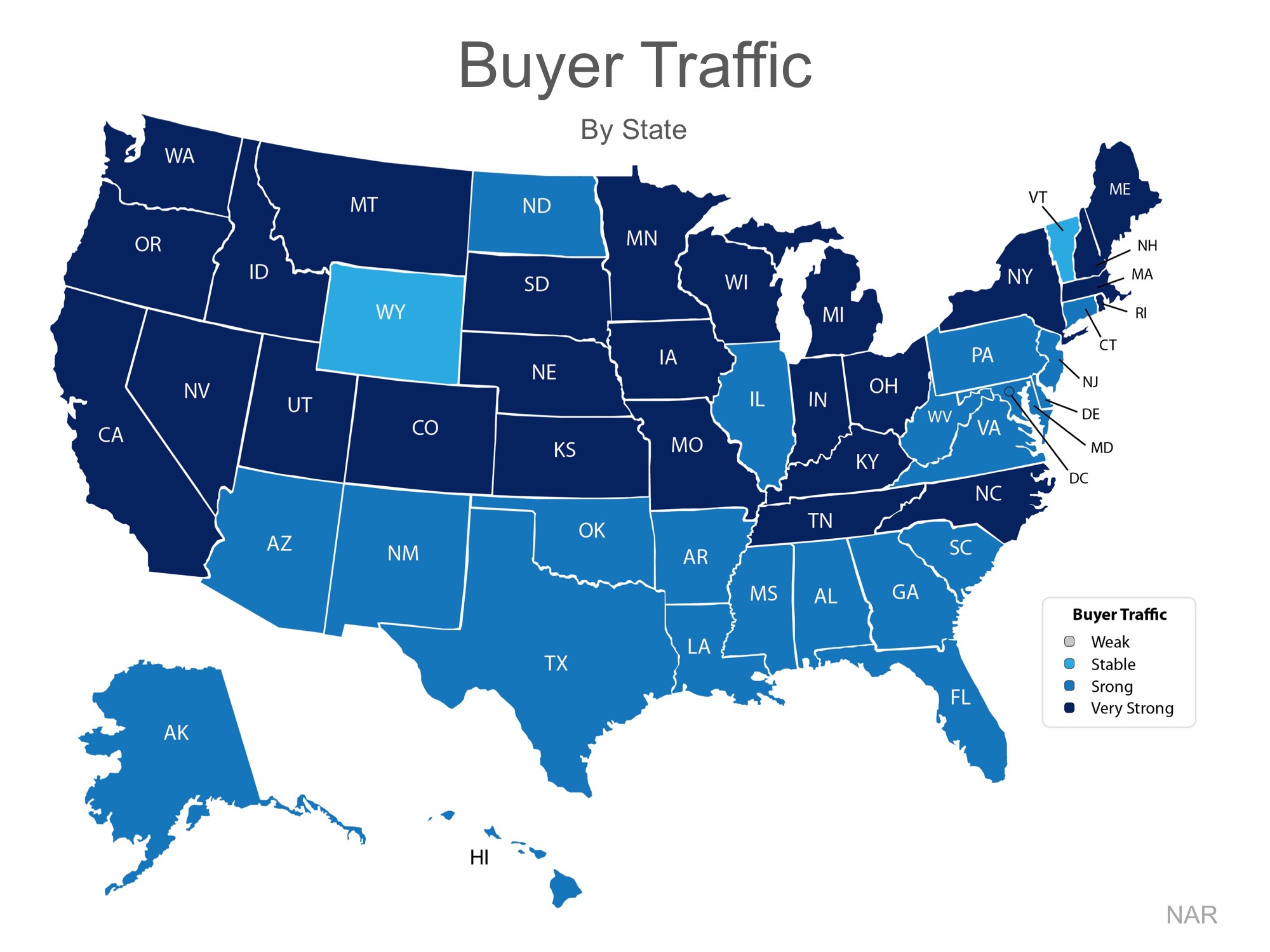 In addition to revealing high demand, the index also mentioned that "compared to conditions in the same month last year, seller traffic conditions were 'weak' in 24 states, 'stable' in 25 states, and 'strong' in D.C and West Virginia."
Takeaway: Demand for housing continues to be strong throughout 2017, but supply is struggling to keep up, and this trend is likely to continue into 2018.
The most important data revealed in the report was not sales, but was instead the inventory of homes for sale (supply). The report explained:
Total housing inventory rose 2.1% to 1.96 million homes available for sale
That represents a 4.2-month supply at the current sales pace
Unsold inventory is 8.4% lower than a year ago, marking the 24th consecutive month with year-over-year declines
According to Lawrence Yun, Chief Economist at NAR:
"Current demand levels indicate sales should be stronger, but it's clear some would-be buyers are having to delay or postpone their home search because low supply is leading to worsening affordability conditions."
In real estate, there is a guideline that often applies; when there is less than a 6-month supply of inventory available, we are in a seller's market and we will see appreciation. Between 6-7 months is a neutral market, where prices will increase at the rate of inflation. More than a 7-month supply means we are in a buyer's market and should expect depreciation in home values.
As we mentioned before, there is currently a 4.2- month supply, and houses are going under contract fast. The Confidence Index shows that 55% of properties were on the market for less than a month when sold.
In May, properties sold nationally were typically on the market for 27 days. As Yun notes, this will continue, unless more listings come to the market.
"With new and existing supply failing to catch up with demand, several markets this summer will continue to see homes going under contract at this remarkably fast pace of under a month."
Takeaway: Inventory of homes for sale is still well below the 6-month supply needed for a normal market. And the supply will continue to 'fail to catch up with demand' if a 'sizable' supply does not enter the market.
Bottom Line
If you are going to sell, now may be the time to take advantage of the ready, willing, and able buyers that are still out searching for your house.
//
---
Questions, Comments or For more information you can contact Christian Penner at: (561) 316-6800 or Office Text Line: 561-530-2223 - visit us online at www.ChristianPenner.com
The Christian Penner Mortgage Team,
Buyer Referral Hotline : (561) 316-6800
---
Or You can click "Call Me" below to call Christian Penner directly using Google Voice
---
#ChristianPenner, #MortgageBrokerWestPalmBeach talks about #RealEstateWestPalmBeach. He also serves other Local Areas and provides home #MortgageSolutionsforPalmBeachGardens, #Jupiter, #BocaRaton, #Wellington and #Tequesta. #ChristianPennerMortgageBrokerJupiter has the #lowestmortgagerates and the best #homemortgage programs like; #Jumboloans, #FHAHomeLoans, #VAHomeLoans, #ReverseMortgageHomeLoans, #FreddieMacHomeLoans, #FannieMaeHomeLoans and #HARPMortgageLoans. #ChristianPennerMortgageBrokerPalmBeachGardens has Served the area for over 15 years with his #HomeLoanLending Needs and Works with #TheChristianPennerMortgageTeam.
#AskMeAboutAMortgage #PalmBeachMortgageLender #WestPalmBeachMortgageLender #PalmBeachGardensMortgageLender
You Can Also Find Him On
Facebook at: https://web.facebook.com/YourMortgageBanker/
- - -
Christian Penner
712 U.S. Highway 1 North #300, North Palm Beach, FL 33408
Buyer Referral Hotline: (561) 316-6800 | Office Text Line: : (561) 530-2223