« Return to Blogs
Homes & Money Newsletter – 3rd Quarter 2017
Posted by Christian Penner at Aug. 17, 2017

Homes & Money Newsletter – 3rd Quarter 2017
Mortgage News
Good News Builds in Housing Market
Housing Starts, Building Permits and New Home Sales were on the up and up in June.
After three straight monthly declines, Housing Starts jumped in June, surging 8.3 percent from May, the Commerce Department reported. This is the highest level since February. Single-family starts, which represent the largest share of the residential housing market, rose 6.3 percent. Housing Starts also were up 2.1 percent from June 2016.
June Building Permits, a sign of future construction, also rose 7.4 percent from May's revised figure to an annual rate of 1.254 million.
New Home Sales edged higher too. The Commerce Department reported June New Home Sales rose a modest 0.8 percent from May to an annual rate of 610,000 units, which was in line with estimates. From June 2016 to June 2017, sales rose 9.1 percent.
Existing Homes Sales slipped, though, falling 1.8 percent from May to June to an annual rate of 5.52 million units. The National Association of REALTORS® (NAR) said Existing Homes Sales were up only 0.7 percent year over year, the second lowest reading of 2017. The NAR said the decline in sales was due in part to a low supply of homes for sale on the market. Total housing inventory was at a 4.3-month supply at the June sales pace and has fallen year over year for 25 consecutive months. Normal inventory levels are around six months.
Home price gains remain steady. The May S&P/Case-Shiller 20-City Home price Index rose 5.7 percent year over year, in line with estimates and just below the 5.8 percent in April. Demand for homes continues to outweigh supply in many key areas across the nation, driving home prices up.
If you or anyone you know has any questions about home loans, please don't hesitate to ask. At this time, home loan rates remain near historic lows. Be sure to look for next quarter's issue of Homes & Money Newsletter coming to you in November.
Did You Know?
In 1941, the first M&M'S® candies were made exclusively for the U.S. military. They were not marketed to the public until 1945.
Finance News
3 Tips to Update Your Bathroom for Less
By Pat Mertz Esswein, Kiplinger.com
You can get a better deal from contractors if you schedule the work when they're not busy, typically between November and January, says Jennifer Bertrand, a designer in Kansas City, Mo. Most homeowners don't want to remodel during the holidays and have maxed out their budgets right afterward. Other tips to keep bathroom-remodeling costs in check:
Design smart. Keep the same layout so you don't have to move plumbing, a costly job. If you need a new tile floor, wainscoting or shower surround, choose inexpensive tile for most of it and save the pricier, wow-factor tile for a decorative accent or the most visible shower wall, suggests Bertrand. To reduce your water bill, look for toilets and faucets with the WaterSense label.
Hunt for discounts. Visit retailers' websites or sign up for e-mail updates to find current promotions. Look for outlet stores in large metro areas that sell retailers' overstock items, returns and closeouts for deep discounts. Check Habitat for Humanity's ReStore, where you may find new or like-new components donated by builders and homeowners.

Reprinted with permission. All Contents ©2017 The Kiplinger Washington Editors. Kiplinger.com.
Quote of the Day

It is impossible to live without failing at something, unless you live so cautiously that you might as well not have lived at all.
– J.K. Rowling
Creative Cuisine
Peanut Butter Granola Balls
(Serves 6-8)
An easy-to-make after-school snack the whole family will enjoy.
Ingredients:
1/3 cup honey
1/4 cup natural peanut butter
2 tablespoons unsalted butter
1 cup crisp rice cereal
1 cup old-fashioned rolled oats
1/4 cup dried fruit
Dark chocolate chips (optional)
In a small saucepan over medium-heat, combine honey, peanut butter and butter, stirring until smooth (1-2 minutes). Remove from heat and add cereal, oats, dried fruit and chocolate chips (if desired).
With a tablespoon, dollop the mixture into mini paper cupcake or candy liners. Refrigerate until set (about 15 minutes).
Source: Martha Stewart
Home News
Bed Sheet Breakdown
They say you spend one-third of your life in bed, but with the right set of sheets you might want to make it even longer. Make sure your next sheet set is a great fit, for your comfort as well as your wallet.
Thread count. This refers to the number of threads woven into each square inch of fabric. While it may be touted as the ultimate test of smoothness and durability, the type of fabric matters just as much. A higher thread count does not necessarily mean better quality.
Fiber matters. When it comes to good sheets, fabrics with longer fibers tend to be softer and more durable. Look for Egyptian, Pima or Supima cottons if you want noticeably softer sheets that won't pill. Cotton-polyester blends are a good budget-friendly alternative and are wrinkle resistant. However, polyester is less breathable than cotton and can trap heat for warm sleepers.
The weave factor. This can affect the look and feel of your sheets. Percale sheets are closely woven which gives a crisp feeling; sateen has a softer feel and a glossier look.
The perfect fit. Measure the height of your mattress, including any pad or pillow top. Sheets should measure a few inches deeper to allow for normal shrinkage.
These tips will help make sure your next sheet set is a great fit, for your comfort as well as your wallet.
Sources: Consumer Reports, Real Simple
Book Review
"A Long Way Home"
By Saroo Brierley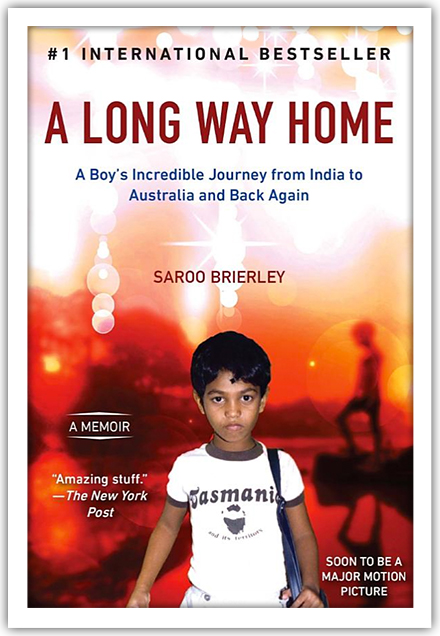 When he was just 5 years old, Saroo Brierley got separated from one of his brothers on a train headed to Calcutta. He couldn't read or write nor remember the name of his town or his own last name. He survived on his own in the city until he was rescued and adopted by a couple in Australia.
As a young man, Saroo used his computer savvy, common sense and satellite images from Google Earth to search for any landmarks he might remember to help him reconstruct a path back home and reunite with his birth family.
A poignant story of hope, which often reads more like fiction than an autobiography, "A Long Way Home" is a New York Times best seller, #1 international best seller and the major motion picture "Lion," which was nominated for six Academy Awards. You can find it on Amazon and at local bookstores.
Street Smarts
Make Shoes Look Like New
Giving your shoes a fresh cleaning is the next best thing to buying a new pair. Each type of material has its own best method for cleaning, so step out in style with these shoe-cleaning tips.
Canvas may seem machine washable, but the agitation and heat can break down the shoe construction. Instead, remove shoelaces and fill a bucket with warm water. Dip the shoes to get them wet and then place on a towel or newspaper. Scrub the shoes inside and out with a nylon scrub sponge and a squirt of dye-free dishwashing liquid. Rinse with running water and let air dry.
Leather requires daily upkeep. Use a dry cloth to wipe off dirt and dust and a leather spot cleaner for stubborn gunk. Leather shampoo and conditioner may be used for bigger cleanings, but leave deeper stains like ink or oil to experts, especially if leather is soft or delicate. Faux and synthetic leather may be cleaned with water and gentle soap.
Suede requires a few special tools for cleanings. After each wearing, a suede brush or suede eraser can handle most dirt and stains. For more cleaning power, brush suede cleaner in with a soft brush and use a cloth to wipe off the excess soap foam. Make new suede last longer with an application of suede water and stain repellant.
These cleaning tips will extend the life of your shoes and save you money!
Source: Real Simple
Facts & Figures
The Amazing Apple
September 26 is Johnny Appleseed's birthday. Snap up these apple facts in celebration!
Apples are a member of the rose family and may range in size from a little larger than a cherry to as big as a grapefruit.
About 2,500 varieties of apples are grown in the U.S. Over 7,500 varieties are grown worldwide.
The first apple trees planted in the U.S. came from the settlers of the Massachusetts Bay Colony.
Apples are the second most valuable fruit crop in the United States, just behind oranges.
Apples are grown in all 50 states, but the top five producing states are Washington, New York, Michigan, Pennsylvania and California.
"An apple a day, keeps the doctor away," comes from an old English adage: "To eat an apple before going to bed, will make the doctor beg his bread."
A single apple has five grams of fiber. Two-thirds of the fiber is found in the apple peel.
Apple trees can grow over 40 feet high and live over 100 years.
The longest-living apple tree reported in the U.S. was planted in Manhattan in 1647 by Peter Stuyvesant (after whom the neighborhood Bedford-Stuyvesant in Brooklyn is still named). It was still bearing fruit when a derailed train struck it in 1866.
Source: University of Illinois Extension
Trivia Challenge
State Birds
Match each U.S. state to its official bird.
Massachusetts
Nevada
Minnesota
Vermont
Florida
Pennsylvania
New Mexico
New Jersey
Louisiana
Oklahoma

Brown Pelican
Ruffed Grouse
Greater Roadrunner
Common Loon
Scissor-Tailed Flycatcher
Northern Mockingbird
Black-Capped Chickadee
American Goldfinch
Hermit Thrush
Mountain Bluebird
For answers, see below.
Thank You
As always, we wish to thank our clients who have been kind enough to refer business to us. We appreciate the opportunity to provide excellent service to your family, friends and co-workers.
Trivia Answers
A-7, B-10, C-4, D-9, E-6, F-2, G-3, H-8, I-1, J-5
---
Questions, Comments or For more information you can contact Christian Penner at: (561) 316-6800 or Office Text Line: 561-530-2223 - visit us online at www.ChristianPenner.com
The Christian Penner Mortgage Team,
Buyer Referral Hotline : (561) 316-6800
---
Or You can click "Call Me" below to call Christian Penner directly using Google Voice
---
#ChristianPenner, #MortgageBrokerWestPalmBeach talks about #RealEstateWestPalmBeach. He also serves other Local Areas and provides home #MortgageSolutionsforPalmBeachGardens, #Jupiter, #BocaRaton, #Wellington and #Tequesta. #ChristianPennerMortgageBrokerJupiter has the #lowestmortgagerates and the best #homemortgage programs like; #Jumboloans, #FHAHomeLoans, #VAHomeLoans, #ReverseMortgageHomeLoans, #FreddieMacHomeLoans, #FannieMaeHomeLoans and #HARPMortgageLoans. #ChristianPennerMortgageBrokerPalmBeachGardens has Served the area for over 15 years with his #HomeLoanLending Needs and Works with #TheChristianPennerMortgageTeam.
#AskMeAboutAMortgage #PalmBeachMortgageLender #WestPalmBeachMortgageLender #PalmBeachGardensMortgageLender
You Can Also Find Him On
Facebook at: https://web.facebook.com/YourMortgageBanker/
- - -
Christian Penner
712 U.S. Highway 1 North #300, North Palm Beach, FL 33408
Buyer Referral Hotline: (561) 316-6800 | Office Text Line: : (561) 530-2223