MMG Weekly | 8.15.2022

Posted by John Higgins at Aug. 15, 2022
A Look Into the Markets
This past week an important reading on consumer inflation showed that we might have seen inflation peak in July. In response, the financial markets celebrated with stocks shooting higher and long-term rates ticking lower from the previous week's highs.
The highly anticipated Consumer Price Index (CPI) was reported on Wednesday and showed the headline CPI, which includes energy and food prices, was unchanged or 0.0% on a month-to-month basis, lowering the year over year rate to 8.5%.
This was a welcome sign, as inflation is half of the Fed dual mandate, which is to maintain "price stability". If inflation cools, it will take pressure off the Fed to hike rates aggressively in the future - hence the sharp rally in stocks.
What caused the drop in inflation pressures? A material decline in oil prices, which have fallen to $90 a barrel from recent highs of $124. Oil and high energy costs have been a major input in consumer inflation, so if prices recede further, it will go a long way to more inflation relief which will lead to lower rates.
Far From Out of the Woods
Some folks are saying inflation is zero, which might sound comforting in certain political environments, but inflation is still running at 8.5%, which was a level last touched in March and remains the second highest reading in over 40 years.
A lot of geopolitical concerns in Russia/Ukraine could have an impact on oil prices going forward. If things get worse this winter where demand is high, it could easily push prices higher. On the other hand, the increasing fears of an extended slowdown and less demand, which has played a big part of the recent price decline, could lead to further relief at the pump and less overall inflation.
Another concern is wages continue to rise sharply and stocks have made an impressive rebound over the past few weeks…this could lead to higher inflation lingering around longer than hoped.
Fed Rate Impact
The probability of a .75% rate hike to the Fed Funds Rate in September dropped sharply in response to the cooler inflation data. This could change as more economic data comes in over the next few weeks. This means we should expect more uncertainty and market volatility ahead.
Bottom line:
Home loan rates are well off their June peaks. Ironically, the rate improvement started the moment the Fed raised the Fed Funds Rate by .75% for the first time in 28 years. With rates having improved, more housing stock coming to market in some areas and home price gains slowing. Now is a great time to consider purchasing a home.
Looking Ahead:
This week there are a bunch of market moving reports that will have the Fed's attention, including Retail Sales, Housing Starts and Initial Jobless Claims. How these reports go could have a big effect on stocks, bonds and rates.
---
Mortgage Market Guide Candlestick Chart
Mortgage-backed security (MBS) prices are what determine home loan rates. The chart below is a one-year view of the Fannie Mae 30-year 4.5% coupon, where currently closed loans are being packaged.  As prices go higher, rates move lower and vice versa.
You can see on the right side of the chart; MBS prices are trying to climb above $101 and the 100-day Moving Average (Orange Line). If prices climb above these levels, rates will improve further, the opposite is true.
Chart: Fannie Mae 4.5% Mortgage Bond (Friday Aug 12, 2022)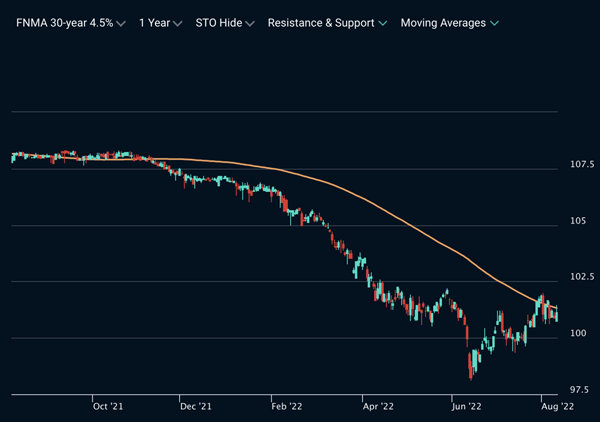 Economic Calendar for the Week of August 15 - August 19

John Higgins
NMLS #136061
---
The material contained in this newsletter has been prepared by an independent third-party provider. The content is provided for use by real estate, financial services and other professionals only and is not intended for consumer distribution. The material provided is for informational and educational purposes only and should not be construed as investment and/or mortgage advice. Although the material is deemed to be accurate and reliable, there is no guarantee it is without errors.
As your mortgage professional, I am sending you the MMG WEEKLY because I am committed to keeping you updated on the economic events that impact interest rates and how they may affect you.