MMG Weekly | 10.24.2022

Posted by John Higgins at Oct. 24, 2022
A Look Into the Markets
This past week we watched the 10-year yield hit a fresh 14-year high, closing above 4.00%. As a result, home loan rates also ticked higher. Let's discuss what happened and investigate the week ahead.
Inflation Is High Everywhere
Global yields continue to push higher, as inflation continues to rise across most of the globe. In the UK, core inflation rose by 6.5% annually, the highest rate in decades. This high reading pushed their 10-year government bond, the Gilt, to 4.00%, the highest level in 14 years.
As yields around the globe push higher, it applies upward pressure on our yields. It is a big reason why our 10-year note touched 4.12%, the highest level since 2008.
Resistance Becomes Support
The 10-year note crossing above 4.00% carries some significance. Up until this week, 4% was acting as a ceiling of resistance limiting how high rates could go. Now it appears 4% will serve as support, thereby limiting how much rates can improve in the near term. Essentially, we went from 4% being about as bad as rates could get to seeing 4% being about as good as rates could get.
The "R" Word Gaining Steam
Through most of this year many Federal Reserve officials resisted using the word recession to define where the economy is and where it may be headed. That has changed in recent weeks.
Besides a few officials acknowledging a recession risk is high, this week many big names on Wall Street are calling for a recession. Those names include Goldman Sachs, JP Morgan and Bloomberg. The latter suggests the chance of a recession in the next year is 100%.
It's not clear if and when a recession will hit or how deep and lasting it will be. The good news is our labor market remains tight and the consumer still has the urge to spend. This bodes well for the economy to resist a deep recession and it also will help housing thrive in the future.
Looking Ahead:
The economic calendar is chock full of reports which feature the first read on Q3 Gross Domestic Product after Q1 and Q2 saw negative prints. Also, the Fed's favorite inflation measure, the Core Personal Consumption Expenditure, will be released. Earnings season will be in full bloom with many big names reporting numbers.
---
Mortgage Market Guide Candlestick Chart
Mortgage-backed security (MBS) prices determine home loan rates. The chart below is a one-year view of the Fannie Mae 30-year 5.5% coupon, where currently closed loans are being packaged. As prices go higher, rates move lower and vice versa.
Prices hover just above a key floor of support which hopefully holds prices higher. If the bond falls beneath this nearby support level, home loan rates will move another leg higher.
Chart: Fannie Mae 5.5% Mortgage Bond (Friday Oct 21, 2022)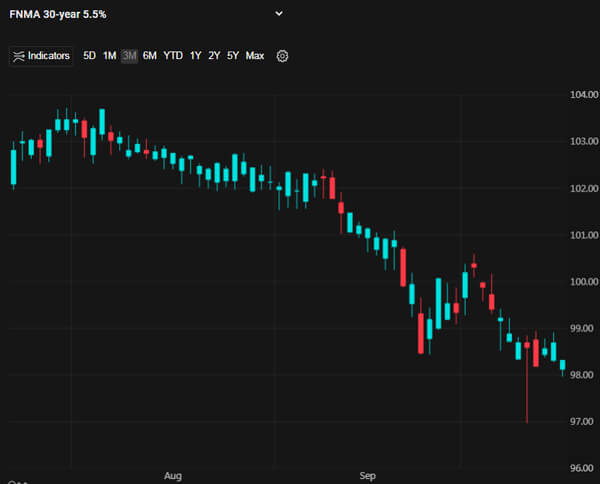 Economic Calendar for the Week of October 24 - October 28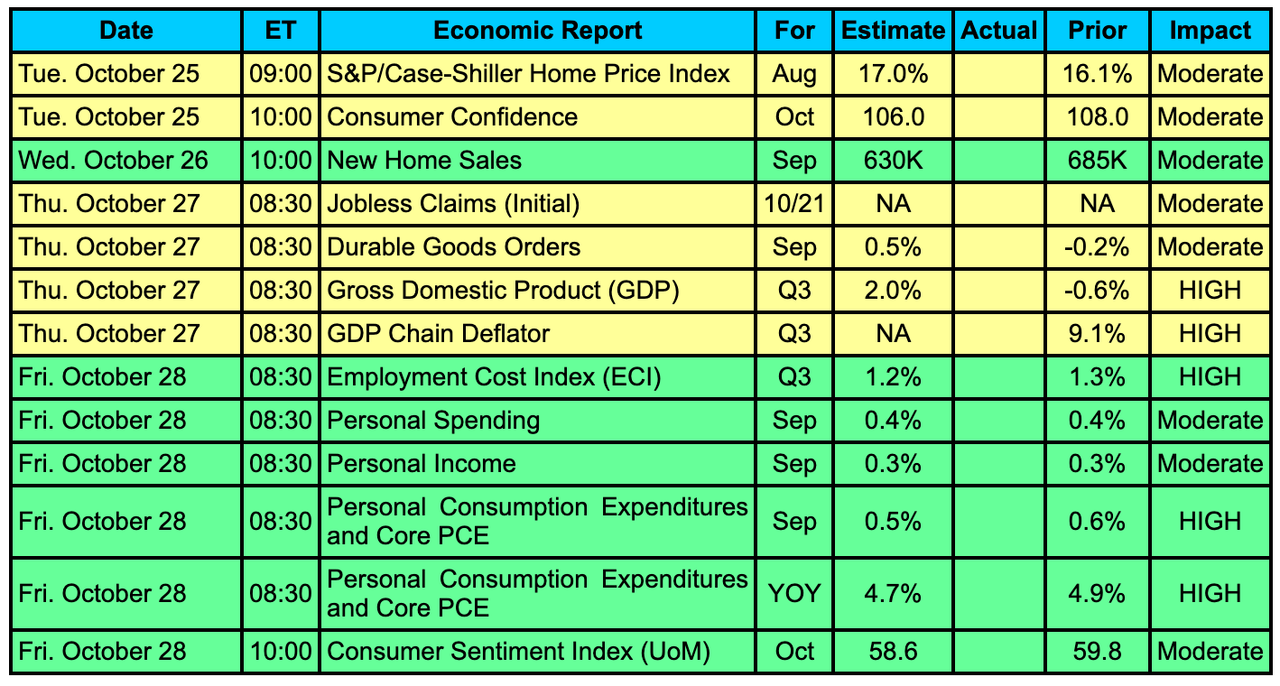 John Higgins
NMLS #136061
---
The material contained in this newsletter has been prepared by an independent third-party provider. The content is provided for use by real estate, financial services and other professionals only and is not intended for consumer distribution. The material provided is for informational and educational purposes only and should not be construed as investment and/or mortgage advice. Although the material is deemed to be accurate and reliable, there is no guarantee it is without errors.
As your mortgage professional, I am sending you the MMG WEEKLY because I am committed to keeping you updated on the economic events that impact interest rates and how they may affect you.