MMG Weekly | Feb. 6, 2023

Posted by John Higgins at Feb. 06, 2023
A Look Into the Markets
This week the Fed hiked rates by .25% and home loan rates improved to their best levels since September. Let's walk through what happened with the Fed and talk about what to watch in the week ahead.
"We can now say for the first time that the disinflationary process has started. This is a good thing." Fed Chair Powell 2/1/23.
As expected, the Federal Reserve raised the overnight Fed Funds Rate by .25% to a range of 4.50 to 4.75%. The Fed Statement and subsequent press conference also contained "dovish" tones where the Fed offered hope that inflation is headed lower and future hikes would be dependent on the incoming data.
"We haven't made a decision on exactly where rates need to end up." Jerome Powell.
Here, the Fed Chair was non-committal on where he sees the Fed Funds Rate reaching the terminal rate or peak. In his press conference, he reminded everyone the Fed will release their updated quarterly economic projections and forecast for rates. Meantime, the financial markets have their own idea of where rates are headed and are pricing in multiple rate CUTs later this year.
This means in the months ahead we should expect uncertainty and volatility as economic reports are released and Fed officials speak.
3.33%
Last October, the 10-year Note yield, which moves up and down with home loan rates, was 4.30%. Four months later, the yield has declined sharply to 3.33%. It is important to note the 10-year yield does have an important technical barrier right at current levels which may limit how much better rates can get in the near term. The trend for longer-term rates remains lower which is a good thing.
Labor Market Resilient
"By many, many indicators, the jobs market remains strong." - Powell.
The JOLTS report showed 11.1M jobs available and with 5.7M people unemployed, we have a nearly 4.5M person shortfall to fill open positions. The latest first-time unemployment claims are also at multi-decade lows, which further highlights the continued strength of the labor market.
This is great news for housing and the notion the economy can land softly and avoid a recession.
Bottom Line:
Rates have continued to improve since the start of the year. Couple this with continued strength in the labor market and you have multiple reasons to see housing sales improve going forward.
Looking Ahead:
Next week is short on economic data with just a few reports being released. A few questions remain. Will volatility continue? Will the bond markets continue to believe that inflation is moving lower? Will mortgage rates decline further? These are questions that will be on the minds of the markets, the Federal Reserve, Wall Street and Main Street.
---
Mortgage Market Guide Candlestick Chart
Mortgage-backed security (MBS) prices determine home loan rates. The chart below is a one-year view of the Fannie Mae 30-year 5.5% coupon, where currently closed loans are being packaged. As prices go higher, rates move lower and vice versa.
MBS prices are right at a ceiling of resistance, which is limiting further improvement in rates. For home loan rates to improve further, prices will have to move above this ceiling. This move would likely need to accompany the 10-year Note yield moving beneath its 200-day Moving Average which is currently at 3.33%.
Chart: Fannie Mae Mortgage Bond (Friday February 3, 2023)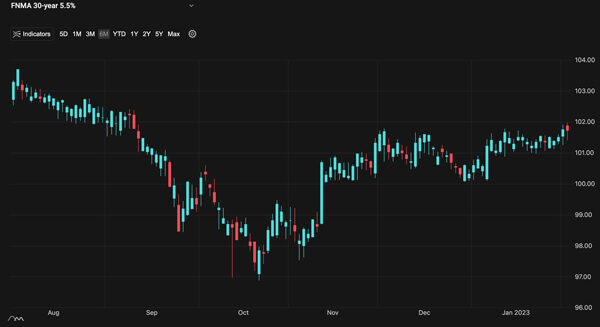 Economic Calendar for the Week of February 6 - 10

John Higgins
NMLS #136061
---
The material contained in this newsletter has been prepared by an independent third-party provider. The content is provided for use by real estate, financial services and other professionals only and is not intended for consumer distribution. The material provided is for informational and educational purposes only and should not be construed as investment and/or mortgage advice. Although the material is deemed to be accurate and reliable, there is no guarantee it is without errors.
As your mortgage professional, I am sending you the MMG WEEKLY because I am committed to keeping you updated on the economic events that impact interest rates and how they may affect you.