MMG Weekly | Feb. 20, 2023

Posted by John Higgins at Feb. 20, 2023
A Look Into the Markets
This week multiple inflation readings came in higher than expected and home loan rates ticked higher. Let's walk through what happened and what to watch in the week ahead.
"More upside inflation surprises could make Fed Policy more aggressive." Ohio Fed President Loretta Mester.
What happened? We thought inflation was on the decline. Even Fed Chair Powell just days ago said, "For the first time, we can say the disinflation process has started".
Inflation readings at the consumer and producer level did decline, they just simply didn't decline as much as expected. The shelter component, which includes rent, insurance, lodging (away from home and owners' equivalent rent of residences), makes up a sizable portion of consumer inflation which continues to run higher than 7% year over year.
One major way to knock down housing inflation is to build more homes. It is estimated we are several million homes short of what is needed to meet demand.
Homebuilder Outlook Improving, But...
The National Association of Home Builders announced an uptick in Homebuilder Sentiment to 42, a level last seen in September and right before home loan rates peaked in October and November. The downtick in rates in January fueled some of the optimism.
But, Building Permits and Housing Starts for January, both came in lower than expected. The Permits is forward looking as it shows authorization to build and ultimately leads to Starts, where the shovel goes in the ground.
We think of the Fed fighting inflation as part of their dual mandate of maintaining price stability. However, this problem will not be fixed by rate hikes alone, if at all. The lack of supply that can be filled by affordable home building could be addressed with fiscal policy at the County, State and National level.
Consumers Spent in January
Retail Sales, which measures consumer spending activity, came in much higher than expected. The markets initially hated the good news because it fuels the notion of more rate hikes. However, after a closer look, the markets saw one-time anomalies affecting the number, including an annual benchmark revision and consumers racing to spend holiday gift cards at vendors offering big discounts.
Going Higher
After all the news, the chances of more rate hikes went higher. The futures markets are now fully pricing in a .25% hike in March and May. There is also a 50% chance of another .25% hike in June, which would lift the Fed Fund Rates to 5.25-5.50%.
It is worth reminding everyone that Fed rate hikes have no direct correlation in mortgage or long-term rates. For example, the 10-yr Note yield, which has ticked up in recent weeks, along with mortgage rates, remains at 1.00% beneath the 3-Month Treasury Bill. The only way long-term rates go higher, is if the economy can absorb those rate hikes. The bond market continues to say it can't, so it likely won't.
Bottom Line:
Rates and inflation have peaked, but as we have seen the past couple of weeks, further improvement won't be a straight line. Expect further inflation and rate improvement in the weeks and months ahead as the Fed is committed to lowering inflation.
Looking Ahead:
Next week, the Fed's favored gauge of inflation, the Core Personal Expenditure (PCE) Index will be released. If this report wildly misses expectations, we can see rates move sharply. After the recent decline in prices and spike in rates, this report could add to the recent selling pressure or help it ease. The Fed Minutes from the February 1 meeting will be released on Wednesday and could be a potential market mover.
---
Mortgage Market Guide Candlestick Chart
Mortgage-backed security (MBS) prices determine home loan rates. The chart below is a one-year view of the Fannie Mae 30-year 5.5% coupon, where currently closed loans are being packaged. As prices go higher, rates move lower and vice versa.
MBS prices have drifted lower over the past couple of weeks causing the recent spike in rates. Should prices bounce off support at $100 on the chart, rates have an opportunity to improve. The opposite is true.
Chart: Fannie Mae Mortgage Bond (Friday February 17, 2023)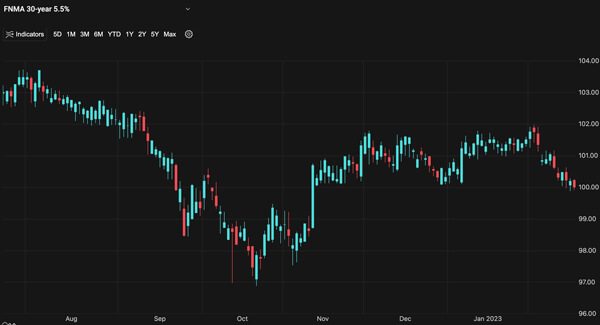 Economic Calendar for the Week of February 20 - 24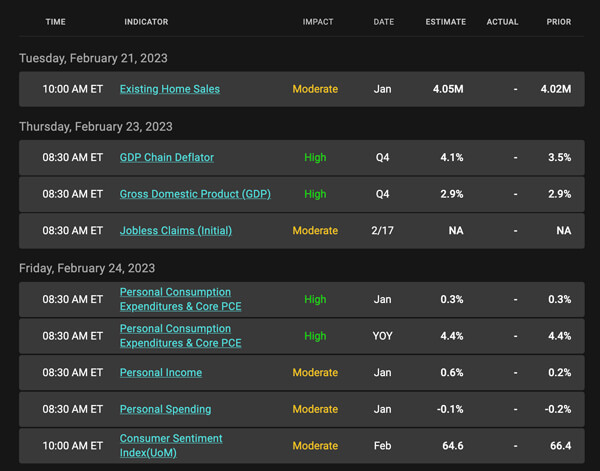 John Higgins
NMLS #136061
---
The material contained in this newsletter has been prepared by an independent third-party provider. The content is provided for use by real estate, financial services and other professionals only and is not intended for consumer distribution. The material provided is for informational and educational purposes only and should not be construed as investment and/or mortgage advice. Although the material is deemed to be accurate and reliable, there is no guarantee it is without errors.
As your mortgage professional, I am sending you the MMG WEEKLY because I am committed to keeping you updated on the economic events that impact interest rates and how they may affect you.