MMG Weekly | Mar. 6, 2023

Posted by John Higgins at Mar. 06, 2023
A Look Into the Markets
This past week, home loan rates touched their highest levels since November. Let's walk through what happened and mention the big events in the week ahead.
Global Inflation Remains High
Back in early February Fed Chair Jerome Powell stated that the disinflation process has begun and that's a good thing. Since that moment, the U.S. has endured several higher-than-expected inflation readings causing interest rates to spike to the highest levels since November.
This included the recent Q4 2022 Unit Labor Cost Numbers, which came in double expectations.
And if that were not enough, inflation across the pond rose to record levels causing global yields to rise. France, Spain, Germany and Italy all reported record inflation prompting markets to start pricing in more rate hikes ahead for the European Union.
The European Central Bank is now expected to raise their benchmark interest rate to 4%. It was not long ago where that interest rate was negative and as interest rates rise around the globe, it places upward pressure on our yields.
4%
On Wednesday, the ISM Manufacturing Index was reported. And while the headline number was disappointing and shows the manufacturing sector contracting, the prices paid component or inflation reading was elevated. After several higher-than-expected inflation readings over the last few weeks, this report was enough to push rates higher, with the 10-year yield breaking a psychological barrier at 4%. With this break above 4%, market watchers' sense that the November highs of 4.20% will be tested.
Fed Tough Talk Is Back
On the heels of the hotter than expected inflation numbers, Federal Reserve officials were out in full force, reminding markets that interest rates will go higher for longer. Fed President Kashkari said, "If we declare victory too soon, there will be a flood of exuberance and we will need to do even more work (rate hikes)."
The financial markets are now pricing .25 basis point rate hikes in March, May, and June, lifting the Fed Funds Rate to over 5% for the first time since 2007.
The good news? The Fed's efforts to fight inflation, slow demand create some unemployment and lower asset prices is good for long-term bonds like the 10-year Note and Mortgage-Backed Securities (MBS). We will now watch carefully to see if MBS prices can remain above the November price lows and if the 10-year yield can remain beneath the closing peak of 4.20% last seen in November.
Bottom Line:
In the absence of market-moving economic data we should not expect any meaningful improvement in rates. The good news is the cure for higher rates is higher rates. Rates are near peaks seen in the Fall. The economy is slowing and all of the Fed rate hikes from last year have yet to hit the economy.
Looking Ahead:
Next week brings big news which could reverse the negative sentiment in the bond market. On Tuesday and Wednesday, Fed Chair Jerome Powell will be delivering the Fed's Semi-annual testimony in front of Congress. This event includes speeches in front of the Senate and House, along with a long question and answer session. And if that were not enough, on Friday we get the February Jobs Report which comes on the heels of January's surprisingly strong report.
---
Mortgage Market Guide Candlestick Chart
Mortgage-backed security (MBS) prices determine home loan rates. The chart below is a one-year view of the Fannie Mae 30-year 5.5% coupon, where currently closed loans are being packaged. As prices go higher, rates move lower and vice versa.
MBS prices fell to the lowest level since November 10th. Next week's big news may determine whether rates can improve from this recent spike and if we see some relief.
Chart: Fannie Mae Mortgage Bond (Friday March 3, 2023)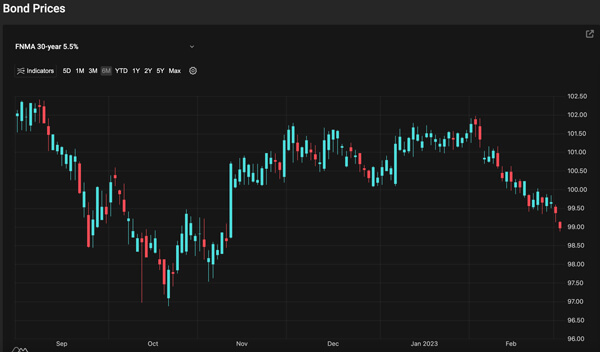 Economic Calendar for the Week of March 6 - 10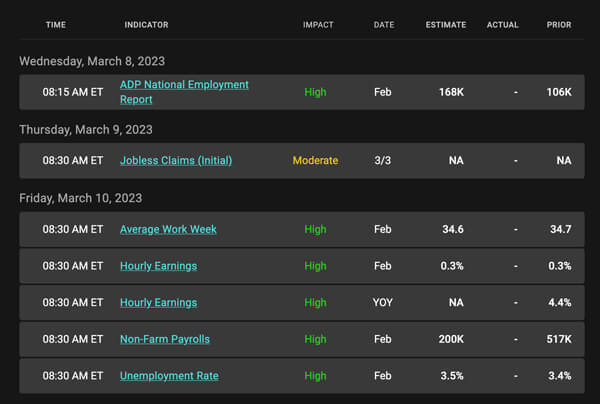 John Higgins
NMLS #136061
---
The material contained in this newsletter has been prepared by an independent third-party provider. The content is provided for use by real estate, financial services and other professionals only and is not intended for consumer distribution. The material provided is for informational and educational purposes only and should not be construed as investment and/or mortgage advice. Although the material is deemed to be accurate and reliable, there is no guarantee it is without errors.
As your mortgage professional, I am sending you the MMG WEEKLY because I am committed to keeping you updated on the economic events that impact interest rates and how they may affect you.