MMG Weekly | Mar. 13, 2023

Posted by John Higgins at Mar. 13, 2023
A Look Into the Markets
This past week, Fed Chair Powell testified on Capitol Hill and his words sent rates higher. Let's walk through what happened and take a peek at what to watch next week.
"Rates Need to Go Higher, Faster"
On Tuesday and Wednesday, Fed Chair Jerome Powell testified before both the House and Senate on the state regarding the economy and monetary policy.
His prepared speech set off fireworks in the financial markets on Tuesday as stocks moved sharply lower, and rates spiked once again. He started by suggesting that rates need to go higher and faster. This was a surprise as the Fed Chair recently said, "The disinflation process had begun." He had the markets sensing there would be possibly three more .25% rate hikes.
As of this writing, things have changed a lot. Now, there is a 69% change of a .50% hike at the March Fed Meeting in two weeks. Before the Fed Chair spoke, the chance of a .50% was just 25%. The threat of even more rate hikes elevated short-term rates (which move closely with Fed rate hikes) to the highest levels in 16 years.
2-Year & 10-Year Yield Curve Inversion Widens
With the 2-year Note yield spiking to 5.00% and the 10-year yield remaining beneath 4.00%, we witnessed the largest yield curve inversion since 1981. Why is this important? Yield curve inversions are typically accurate in predicting recessions. So, seeing the widest yield curve inversion in decades suggests the bond market is screaming that a recession is likely to happen within the next 12 to 18 months.
"We do not think we need to see a sharp increase in unemployment to get inflation under control." Powell
Here, the Fed Chair is trying to soothe the markets on the notion they can hike rates more to help lower inflation and avoid a large uptick in unemployment. Currently the labor market remains very tight. There are still nearly 11 million jobs available and nearly half that amount of people unemployed, so there is a 5 million gap between jobs available and people to fill those positions.
Let's hope the Fed Chair is correct and inflation will continue to come down and we do not experience significant unemployment...as jobs buy homes.
Bottom Line:
The uncertainty, confusion and volatility in the financial markets has elevated pessimism in the economy and housing. History has shown when pessimism or optimism elevates, it's generally a contrarian indicator and a change in sentiment is forthcoming. The other good news? Despite all the noise, both inflation and home loan rates have likely peaked.
Looking Ahead:
Next week the financial markets will get some relief from Fed speak as Fed speeches will be limited during the "quiet period", one week before the next Fed Meeting on March 22nd. Meantime, there will be important inflation readings which could move rates.
---
Mortgage Market Guide Candlestick Chart
Mortgage-backed security (MBS) prices determine home loan rates. The chart below is a one-year view of the Fannie Mae 30-year 5.5% coupon, where currently closed loans are being packaged. As prices go higher, rates move lower and vice versa.
MBS prices fell to the lowest level since November 10th. If prices fall beneath the lows of November 10th, we will likely see home loan rates move another leg higher.
Chart: Fannie Mae Mortgage Bond (Friday March 10, 2023)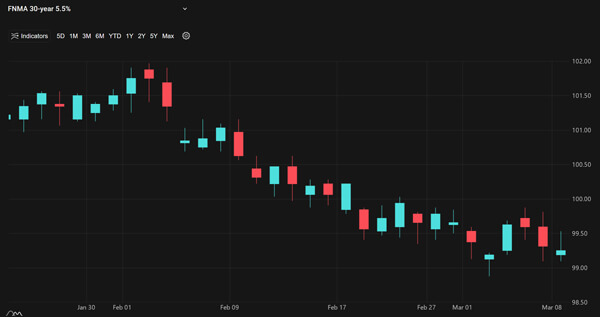 Economic Calendar for the Week of March 13 - 17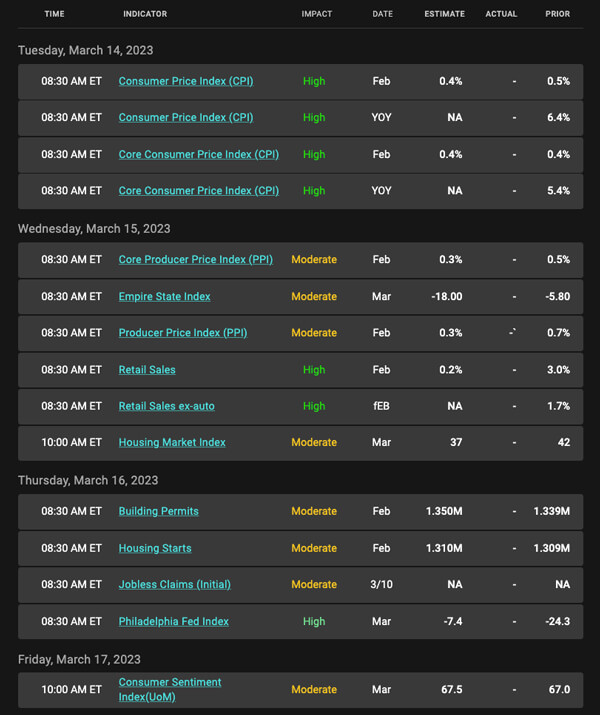 John Higgins
NMLS #136061
---
The material contained in this newsletter has been prepared by an independent third-party provider. The content is provided for use by real estate, financial services and other professionals only and is not intended for consumer distribution. The material provided is for informational and educational purposes only and should not be construed as investment and/or mortgage advice. Although the material is deemed to be accurate and reliable, there is no guarantee it is without errors.
As your mortgage professional, I am sending you the MMG WEEKLY because I am committed to keeping you updated on the economic events that impact interest rates and how they may affect you.