« Return to Blogs
7 Daily Habits That Turn Renters into Homeowners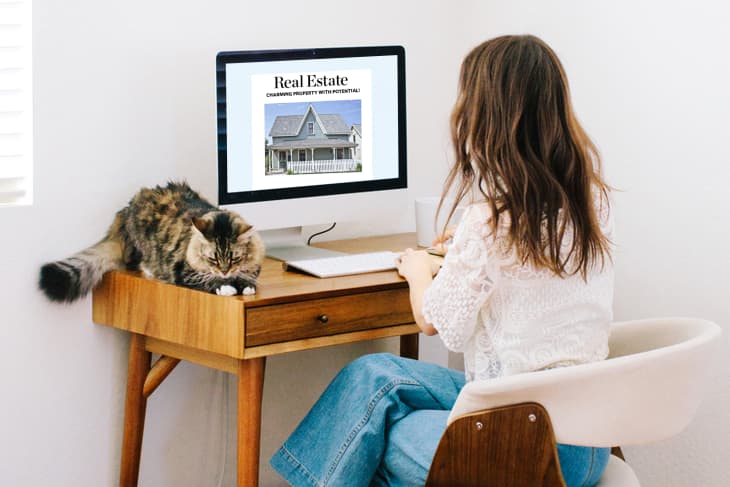 Posted by Paul Ciliano at Jun. 29, 2022
Much to the dismay of sleep experts everywhere, each night I wrap up my day in the glow of my phone's blue light. After learning which celebrity was most recently canceled on Twitter and scrolling through photos of weddings and some guy named Jake's very large catch of the day on Instagram, I find myself on Zillow. Many of my friends do the same, though none of us feel ready to actually buy a home.
But seemingly aimless habits like the nightly Zillow scroll can actually help renters take meaningful steps toward homeownership. I spoke with real estate experts about the daily habits that turn renters into homeowners—and you might be surprised to learn you're already making strides.
Demystifying homeownership with short bursts of studying
For those who have never purchased a home before, the process of house hunting (and then home buying) can seem intimidating, if not downright impossible. Taking time to do a little digging into the process can prime renters for the next step. A great first start: learning about available resources. From Google to experts to friends, start asking the scary questions.
"It is never too early to learn about all that it takes to buy a home and to start preparing," says Chicago-based realtor Amy Wu. "This is especially true because often first-time homebuyers (including those who currently rent) come to realize that they actually need more time to save for a down payment and closing costs (and other fees that come with being a homeowner—for example, furniture is expensive!), and improve their credit score so they can qualify for a loan."
The home-buying process involves a whole glossary of terms that may seem foreign to a renter, but online guides can help explain the process. Speaking with friends who are homeowners about their purchase experience is also key. After all, they were once clueless too.
Keeping a close eye on your finances
Plenty of renters know what date to send their rent check, but not much else about what's going on with their finances. Having an overview of your budget and checking its progress frequently will help renters monitor their saving progress.
As renters inch closer to saving up a chunk of change for a down payment, it's time to bring in the experts. "I recommend speaking with a nationwide lender first," says Courtney Poulos, ACME Real Estate owner, broker, and author of Break Up! With Your Rental. "The lender is going to help with a little financial planning, if that's what's needed." Identify multiple lenders in your area and reach out for consultations. "The best way to understand how much you are able to borrow and what your monthly mortgage payments will look like is to consult with a few lenders," Wu says.
Lenders will guide renters through the process of creating a plan for when they're ready to start shopping for homes. "If you tell them the goal and maybe you need a little bit of a higher credit score to get there, they can help you navigate that so that you know what to aim for when you're ready to pull the trigger, and you might actually be ready before you think you're ready," shares Dominique Madden, broker associate at ACME Real Estate. Their expertise will inform your daily check-ins on your accounts.
Figuring out the features you want
As renters go about their days, it's helpful to note and record different features that they view as critical in their present and future homes. A two-car garage, dishwasher, home office—whatever it is, write it down. When you're ready to start house hunting, talk through your needs and preferences with your realtor.
Madden says, "I've actually had many new clients that have come out of, I'm assuming, sitting at home and liking and liking and liking." Familiarizing oneself with the features that different listings boast as selling points for a property will orient renters to the key details to look for in future house hunting.
And remember that when negotiating an offer, renovations can be included. "If you're a first time buyer and maybe the [home] that's totally renovated is outside of your budget, you could be looking at things that maybe need a bit of work," Madden says. If a renter has their handy list of needs, they can figure out what renovations and adjustments can be made to a home that has yet to become the full package. Madden continues, "You can finance up to that loan amount with your renovation and your purchase price included."
Identifying budget cuts
Especially given the pandemic, the way folks spend money has changed. Renters who have been able to remain financially secure may have canceled travels and spent nights away from restaurants and bars. These served as opportunities to stack up savings.
"Just in not traveling, I was able to build up quite a nice reserve and I actually bought my first house this year," Madden says. I'm not suggesting anyone give up their coffee shop treat or avocado toast—we know those little sacrifices aren't the big culprit that some experts make them out to be. But if a renter can reallocate a big expense to their savings, that's a big deal for working toward a down payment.
Spending quality time in different neighborhoods
If you know next to nothing about real estate prices in different parts of your community, it's time to branch out. "Something I recommend to my clients whenever they're first starting their search is that they familiarize themselves with neighborhoods, like actually go to the neighborhoods, go to coffee shops, go to restaurants, feel it out," Madden says.
Then, pull up your Zillow or other house hunting app and check on the home prices in the area. Madden recommends renters ask themselves, "What's on the low end, what's on the high end, and then, what do you need?"
Hyping yourself up
Look, the recession is terrifying. Many folks' finances have been shaken by the pandemic, and millennials on the verge of homeownership might feel trapped by student loan debt. It's easy (and understandable) for renters to have moments when they fear they'll never be able to buy a house. But the reality of a renter's finances may surprise them.
"A lot of people, when they think about home buying for the first time, they think… 'That's something I do when I get married, that's the house that I raise my kids in.' I would say it's the post World War II normalcy model of real estate," Poulos says. Nobody needs a partner, a family, or even a roommate to take a step toward homeownership. "That's not the way it is now," Poulos says. Look into your options and hype yourself up. Homeownership isn't as far away as it may seem.
Contributor
Sarah Magnuson is a Chicago-based, Rockford, Illinois-born and bred writer and comedian. She has bachelor's degrees in English and Sociology and a master's degree in Public Service Management. When she's not interviewing real estate experts or sharing her thoughts on laundry chutes (major proponent), Sarah can be found producing sketch comedy shows and liberating retro artifacts from her parents' basement.